Several camgirl websites allow you to switch on the microphone of your smartphone, table, laptop or desktop computer without showing your face on webcam.
Livejasmin
This camgirl website has private chat feature. Once you walk in the private chatroom of a camgirl, the default chat mode is text. Then, by pressing the microphone icon on the camgirl screen, you will be able to activate your microphone WITHOUT activating the webcam of your computer or the camera of your smartphone, tablet.
You can also directly press the microphone icon when you are in the public chatroom of a camgirl like mentionned by the arrow below.
Audio chats are worth it on Livejasmin, because all livejasmin camgirls of the main category speak and understand english. Nevertheless, we saw that some camgirls of the hot flirt category didn't understand english.
Click here to join Livejasmin for free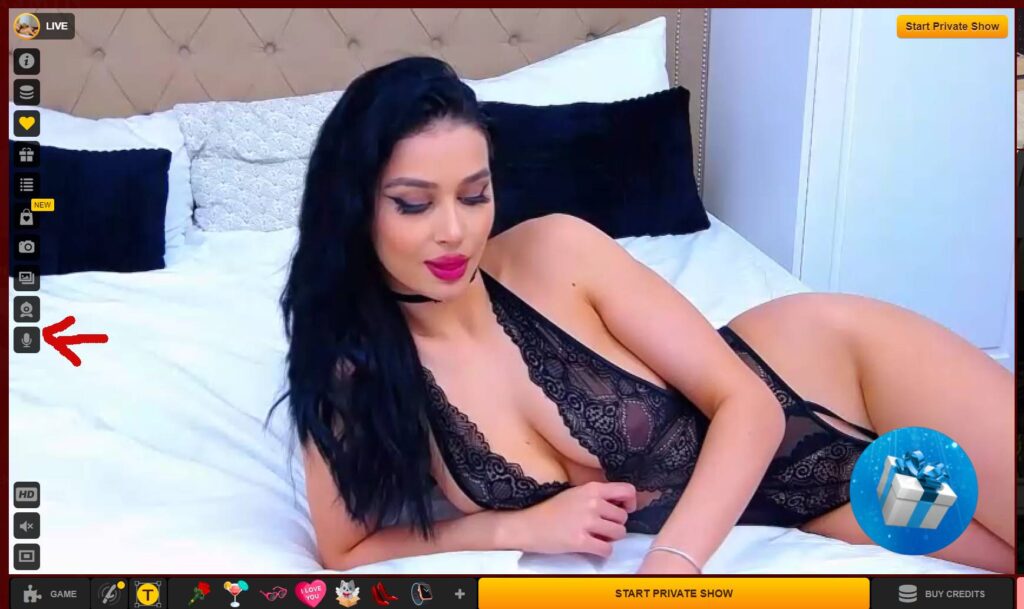 Streamate
Streamate works just like Livejasmin. The default private chat mode is text. So, first click on "go private" and then click on the microphone to enter an audio-only private chat. This will not activate your webcam.
Audio chats are worth it on Streamate because most camgirls understand and speak English well. Nevertheless, before entering a private chat room, check if the camgirl speaks english in her public chatroom.
Click here to join streamate for free
Stripchat
The default mode of a private chat on Stripchat is also text. After entering a private chat (standard or exclusive) you have two choices, either you activate your webcam or you activate your microphone only.
Some Stripchat camgirls speak and understand english fluently, some stripchat camgirls don't understand english at all and need to use a translation website. Before going private, check if the Stripchat camgirl speaks and understand english in her public chatroom.