Don't tell your real name
Camgirls are the first to use a pen name when they operate in front of their webcam. I do advise to never share your first and your full name.
Email address?
Better use a social media account than an email address. Once a camgirl sent me an email and I never received it. The email ended up in my spam folder. I think it was due to cyrillic characters in her name. She was Ukrainian. Logically, she wrote her name in Ukrainian. I think that because of this spam problems, I may have missed many emails from many camgirls for one year as I never checked my spam folder. Furthermore, I receive many spams in my spam folder.
Instant messaging app strategies to protect your privacy when chatting with a camgirl
Whatsapp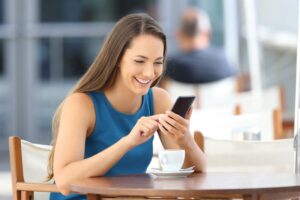 Be cautious because if you decide to share your whatsapp this means you decide to share your phone number. It may be accurate to have a second phone number to chat with camgirls.
Instagram
Don't share personal things on the instagram account that you share with camgirls. So, for instance, imagine that a father decides to share pictures of his wife and family. He also chats with a camgirl. For some reasons, she decides to harm the said man. She can try to contact family members or friends by looking into the follower list of the man. Consequently, It is better to have a second phone with a different instagram or an instagram subaccount.
Snapchat
This instant message app is safer than instagram because noone can see your friend list. Also text messages are deleted after 24 hours or after the camgirl read it. Nevertheless, the short lifetime of messages is also a bad thing because you and your interlocutor can't see old messages.
Telegram
This is a great messaging application because Telegram is encypted from end-to-end. Telegram does not delete the messages so that you can easily remember your past exchanges. Telegram is great for privacy. Conversations are not monitored. For sure, i have a phone number dedicated to telegram camgirls.