When you see the word "manycam" in a camgirl video, it is not a good sign. It means the said camgirl is broadcasting on several camgirl websites at the same time. For example, she may simultaneously broadcast on Stripchat and chaturbate. Manycam is a cam splitter software to allow somebody to stream to two or more different channels.
What does it mean?
It means that both Chaturbate users and stripchat users can see what she is doing at the same time. This situation can turn to be a scam. For example, a stripchat user may take the said camgirl to a private chat session. In this case, he is charged by the minute. Meanwhile, she may not stop her broadcast on chaturbate during this private chat and the chaturbate users may see the live show of this camgirl for free.
You can spot a scammer by listening to the sounds in the chatroom of this camgirl. If you ear little brief sounds, it means she is still getting tips in the private chat session from another adult chat website.

We know two camgirl websites where camgirls never used a cam splitter software like manycam: Livejasmin and streamate.
First, Most camgirls on Livejasmin exclusively work on Livejasmin. Nevertheless, you must check it first by click on the model bio icon (a little i). You will see the mention: "exclusive model. Only available on Livejasmin".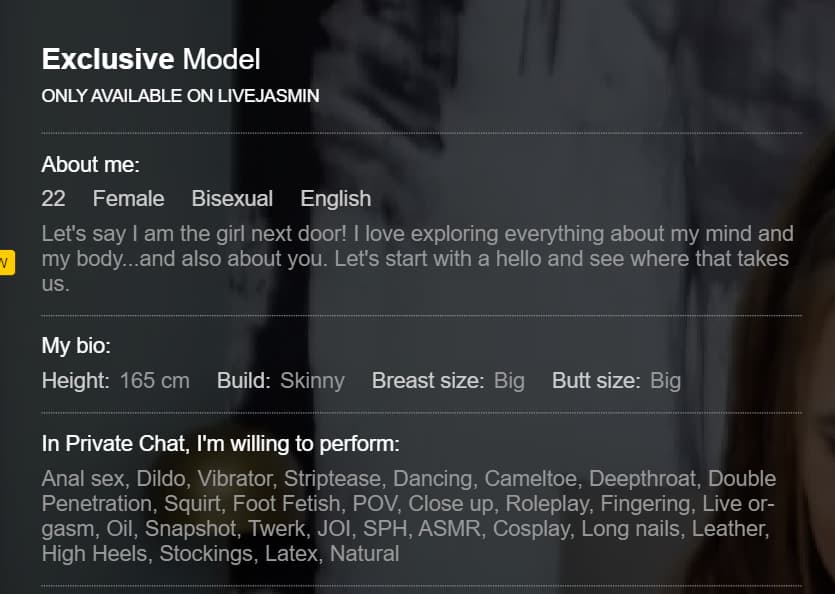 Click here to join Livejasmin for free
Streamate does not have this exclusivity but when we visit the public chatroom of a Streamate camgirl, you can determine whether she is chatting on another website or not. For instance, if even if she is typing on her keyboard no messages of her are displayed it means she is busy doing something else. On Streamate, there is no private instant messaging area in public chatrooms. She could spend time answering offline message of streamate. However, we know that camgirls of streamate don't spend hours answering offline messages.