Stripchat mainly features beautiful young wome from Eastern Europe, Colombia and Asia. We spotted webcam models from Russia, Ukraine, Romania, Kyrgyzstan, Germany, France, Italy, Vietnam, China, Taïwan, Japan, Vietnam, Philippines. You can enter any public chatrooms of webcam models. Then, you may decide to enter the private chatroom of a model.
Click here to join Stripchat for free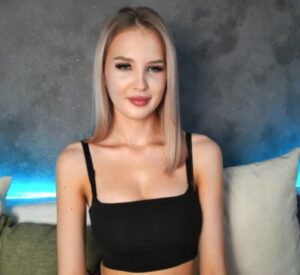 Features:
You can easily send a private message to a webcam model even when she is in her public chatroom. You can also send her a picture that you can upload as a private message.
Tips for a live show:
After joining stripchat, and buying tokens, you can start a live adult show by sending a webcam model tokens in her public chatroom. her list of live shows can be found on her profile. Thus, you instantly know what she is willing to do. Some webcam models wear a bluetooth sex toy which vibrates when Stripchat users send tokens to the model.
Private chat sessions:
Most webcam models allow Stripchat users to visit them in private. Stripchat has two private chat modes:
Private chat mode: Other people can spy on the private chat but they can't interact with the model. In this mode, you can't have an audio chat or a cam2cam with the model. You can only type your text to the webcam model.
Exclusive chat mode: Noone can spy on the private chat. You can also decide to turn on your webcam and/or your microphone to have a camtocam with the cam model or an audio chat.
While most cam models of stripchat allow users to chat in private, it does not mean models are willing to do it. Some private chat sessions are way too expensive (90 to 150 tokens per minutes). This means it costs more than $9 US per minute. We think these models set a high price to discourage stripchat users to do.
Click here to join Stripchat for free
Our opinion:
There is a wide variety of motivation level and quality service among women on stripchat. Some webcam models aren't willing to interact with visitors and don't speak English. Conversely, some webcam models speak fluently English. These women are willing to interact and please Stripchat users. So, your job on stripchat would be to identify the cam model who fit your needs. At first sight, all stripchat women look welcoming and accommodating. Then, when you chat with them in private you discover tremendous differences between them. So, don't get disappointed by a stripchat model who didn't give you satisfaction. Be picky and just keep a list of favorite models who gave you satisfaction. Don't add women to your favorites for a later inspection. Check on the spot and then, add her to your favorite.
Our advice to Stripchat users:
Take your time when choosing models
Don't rush. Spend time selecting your favorite webcam models. At first sight, the website is packed with beautiful women. However, when you look into it, you discover that huge differences lies between webcam models on stripchat. If you look for a special show or a special webcam model service like a roleplay you can send a private message to the cam model. Go to a private chat session only when you are satisfied by the behavior or responses of a cam model.
Don't waste money on expensive private chat sessions:
I previously said that the private chat sessions of some cam models could be very expensive. You will likely be disappointed after spending a significant amount of money for little or nothing. Even if you are into financial domination it does not mean, the webcam model will give you attention.
Focus on nice webcam models rather than models that have your favorite body type
We found that the best women on stripchat weren't the ones that we found the most beautiful. Unfortunately, it is rare or at least it takes time before finding a woman who is exactly your type.
Click here to join Stripchat for free