Several camgirl websites allow you to collect the Instagram, Snapchat, Twitter, WhatsApp, Telegram, Twitter account of your favorite camgirls. We listed below the camgirl websites where these social media links are published on the camgirl page or can be purchased.
Stripchat
Some camgirls add a link to their Instagram account at the top of their Stripchat page above the webcam streaming screen. We also spotted links to twitter accounts. Sometimes, the social media accounts of a camgirl are mentioned in the description of her stripchat page.
Click here to join Stripchat for free

On Stripchat, several camgirls also sell their Instagram account, Snapchat account, Telegram account, Whatsapp account.
Usually, you can see how much it costs to buy a social media account by clicking on the button "send tip", in the list of tip categories. If the price of her social media is not listed, send her a private message and ask her if she sells social media accounts.
If you want to buy a social media account, you must first buy tokens, send a tip to the camgirl and contact her via a private message. These camgirls have a protected Instagram account. So, you must give your Instagram to the camgirl and then she will add you.
Camsoda
This website displays a link to the Snapchat account of a camgirl. You can buy the snapchat account of a camgirl this way. First, you must buy tokens and then, you will be able to buy the Snapchat account. When you click on a "buy snapchat" button, you must enter your Snapchat account. Thus, the camgirl will add you to her Snapchat account.
Most of the time, Camsoda camgirls have a Snapchat account. Some also have a Twitter account. When this is the case, you can see a twitter account, somewhere on her camsoda page. In the description, you can sometimes find an Instagram nickname. However, the profile can be protected so that it can be frustrating.
Click here to join camsoda for free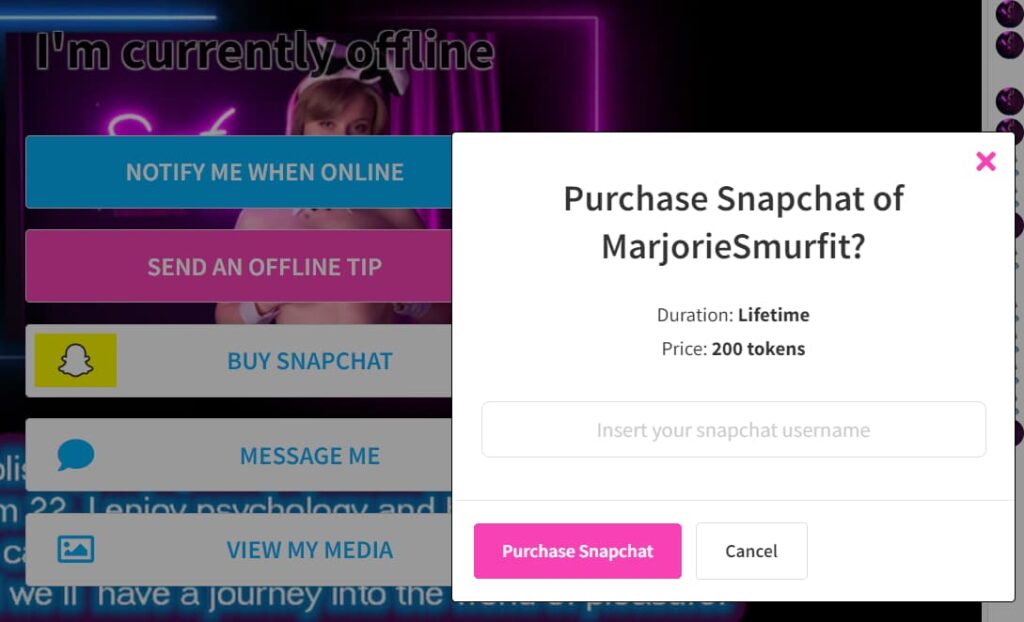 Chaturbate
Chaturbate camgirls sell access to their Whatsapp, Snapchat, Instagram and Snapchat account from their model page. You can find purchase buttons in the description area of camgirl pages. Several options are available: Access for 1 month, 6 months or lifetime. The sale sometimes come with some goodies like free chat, private pictures and videos, discount for onlyfans.
Nevertheless, be aware that not all camgirls have social media accounts. So, if you don't see any buttons in a description, it means the said camgirl doesn't give access to her social media account. Additionally, you may sometimes see a Twitter icon on the page.
Some camgirls share their Instagram account for free but if you want to chat with a camgirl, it is not a good sign because if she has thousands of followers she will likely not answer you.
Click here to join Chaturbate for free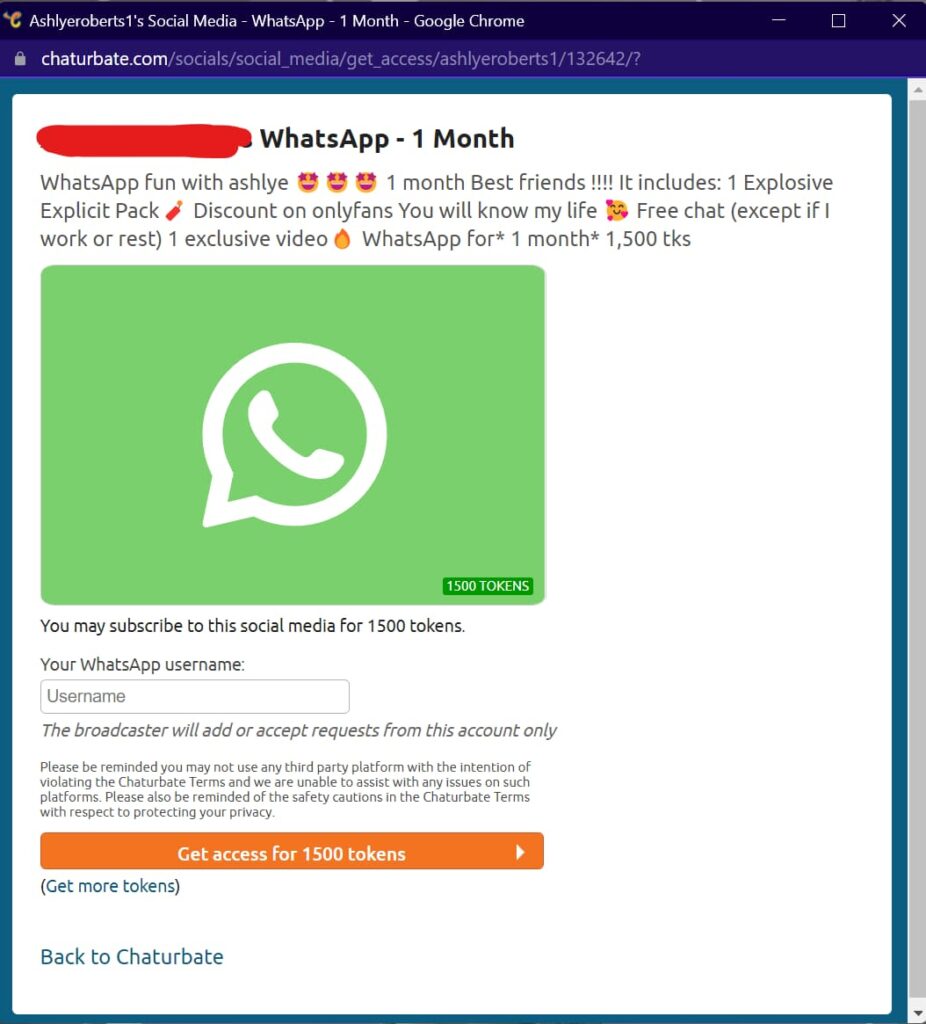 Bottom line:
Whatsapp, instagram, telegram are more reliable than email addresses for a reason. Once, I gave my email address to a camgirl. She wrote me back but the email landed in my spam folder. Hopefully, she asked me to check my emails via an offline message of the camgirl website. Without this message from her, I would have never checked my inbox.